Disclosure: I got this product as part of an advertorial.
I've been part of iFabbo (International Organization for Fashion, Beauty & Style Bloggers & Brands) since October of last year. It wasn't until recently, that I received Perlier Honey Royal Gold Elixir Facial Serum from iFabbo.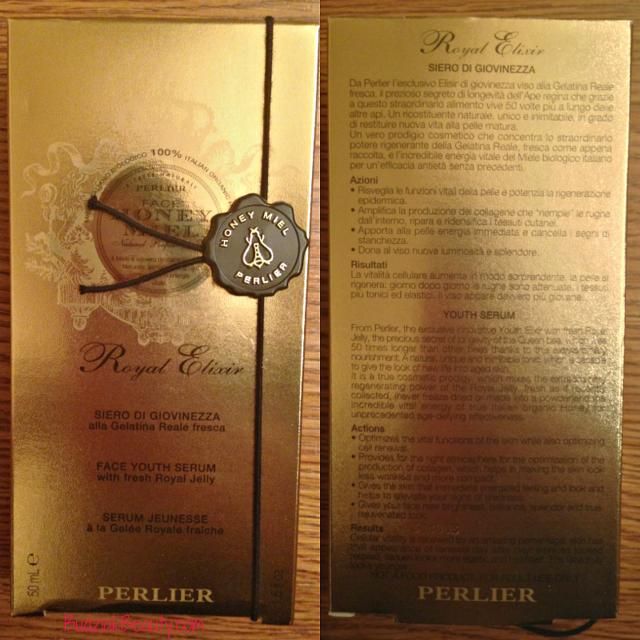 "This innovative, anti-aging serum incorporates fresh Royal Jelly from African bees known to stimulate collagen production and provide vital nutrients and anti-oxidative properties to the skin.  Additionally, all the water has been replaced by extremely pure rose distillate that has moisturizing and toning properties. A truly cutting edge product that envelopes nature at its prime." (iFabbo)
Because this serum has Dimethicone in it, meaning it can double as a primer, it smoothes lines while protecting skin and creating a canvas to apply makeup on, however be careful if you have sensitive skin! I was pleasantly surprised by Perlier Honey Royal Gold Elixir Facial Serum – first of all, I love the texture of serums, they just go on so smooth and absorb in to my skin quickly. The finish is interesting, it's just shy of glittery, the pale yellow buttercream colored gel applies translucent but has some gold shimmer in it, not Edward Cullen like but more luminous. After applying foundation, the shimmer is not visible. I'm not sure about the anti-aging as I don't have an issue with that but it does make my skin feel and look a bit nicer.
It doesn't really smell like anything. There may be a very faint scent but my nose doesn't detect anything adverse about it. There is something very luxurious about the elixir, it leaves my skin soft and prepped for my makeup routine and it hasn't broken me out at all. I feel like my makeup stays better, even in Texas' humid summer heat. Perlier Honey Royal Gold Elixir feels like it retains the moisture in my skin without letting it get too oily, which is a great accomplishment for this serum. You only need a pump or two to cover your entire face and neck, so this bottle will be lasting me quite a while, even with continuous use. While I very much enjoy this serum, it's not something that blows my mind, it's a nice product, nothing less and nothing more.
Perlier Honey Royal Gold Elixir is available on HSN and be sure to search online for HSN codes before purchasing; there's a $10 off code floating around as well as $20 off for new customers. Don't forget to share your thoughts by using #PerlierOnHSN.
See http://bit.ly/1m2kLEZ for more info regarding this product.
I received one or more of the products mentioned above for free using iFabbo. Regardless, I only recommend products or services I use personally and believe will be good for my readers.