DIY gold confetti vase is a misleading title since my vase is actually a makeup brush holder!

When I first purchased my vanity, I picked out a rectangle vase to use as a makeup brush holder. I purchased large marbles to fill it with and shortly after, realized the marbles were much too large to make it a functional makeup brush holder. Cue brush holder makeover or vase tutorial…

When Kate Spade first came out with their fragrance, Twirl, I was obsessed! Not only did it smell fabulous, the bottle was beautiful too; the gold cap with matching gold dot confetti on the base of the bottle. Then they started coming out with phone cases, glassware – dishes & glasses. I love the pattern! So simple and classy, it SHOULD be everywhere.
After researching different ways to decorate my plain Jane boring rectangle vase, I realized no amount of glitter, ribbon or other types of embellishment would make me happier than Kate Spade inspired gold polka dots. Although in this situation, they're more like large spots than polka dots… It was surprisingly VERY easy to do!
Craft items needed:
Glass paint (Martha Stewart Metallic Glass Paint)
Sponge dotter tool (Spouncer)
Vase (IKEA rektangel – 11″ x 3.24″ x 7″)
FYI: The Martha Stewart Multi-Surface Acrylic Paint has a more slippery liquid texture, it also creates bubbles when sponged on. The MS Glass Paint, creates bubbles but seems to squeeze out of the sponge when applying and grips the surface better than the regular paint. I prefer & recommend the glass paint over the multi-surface paint for that reason.
I sponged on the first layer of dots randomly but evenly spaced on the vase. I let that dry while updating Instagram. I went over the dots in 2 more layers of paint so the they would be opaque and smooth. After letting that dry, I went over the dots again which a much smaller detail brush to get any tiny air bubbles that may have not gotten painted.
I let the vase dry overnight and I popped it in to my oven to bake. The instructions specify that the vase should be in the oven before it preheats completely to cure the paint correctly. FYI: The Martha Steward (Plaid) website said bake for 30 minutes at 350* DO NOT DO IT! 350 was much too hot for my vase and it exploded in my oven. So I had to do the whole project over again. If oven curing – bake at the lowest temp!
On my second attempt, I just skipped the baking entirely, it looks great without the added heat and will continue to air cure in time.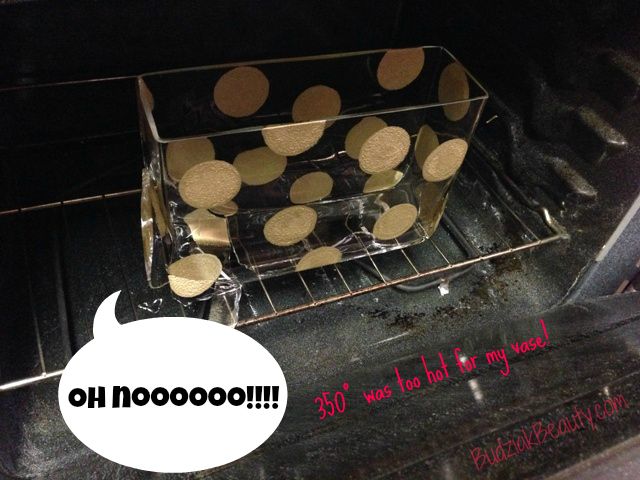 To finish off the whole look, I ordered little glass beads (from Save On Crafts) similar to the kind Sephora uses to hold brushes. There's so many different kinds of vase fillers but the glass beads seemed like the best option – it wouldn't go bad or attract bugs (unlike rice or coffee) and wouldn't scratch up my brushes like other abrasive fillers. They're a little pricey ($4.10/lb), especially since my rectangle vase is fairly large, however, if you put everything together – DIY gold confetti vase + the glass beads – it's the perfect finishing touch to my vanity! Therefore, worth the cost! I ended up getting 8 lbs of beads thinking it would be too much rather than too little but it ended up being just the right amount!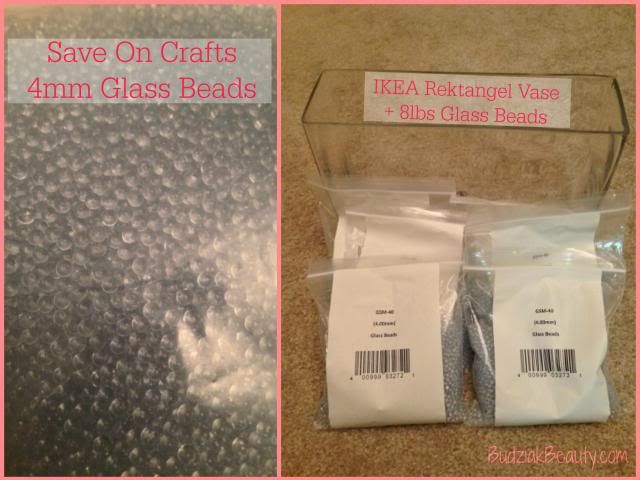 How do you store your makeup brushes?