My blog photos need a little upgrade so… I decided to try a DIY project of creating a lightbox for photographing some smaller items without a horrible background/shadow.
I have a ton of white cotton fabric (yay, sewing) which came in handy to use for my lightbox. I found a box to use & we purchased 2 cheap desk lamps from walmart to illuminate the sides.


The hardest part of this project was cutting out the cardboard, even with a box cutter it was challenging – I should have taken Toby up on the offer to help.


When the box was arranged, I cut out corresponding pieces of the white cotton (white tissue paper will work too), ironed them to get out any wrinkles and duct taped them to the box.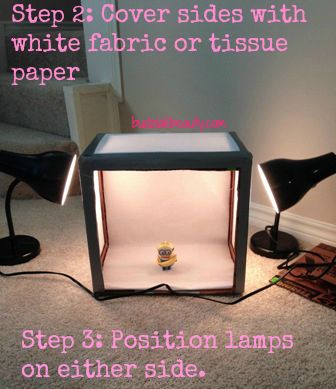 TA DA!