I feel like this is kind of cheating because I didn't make the swimsuit, I started with a bikini and jazzed it up a bit! I think its safe to say we've all seen this one piece swimsuit image floating around on Pinterest:
'Penelope' Crochet Overlay One Piece Swimsuit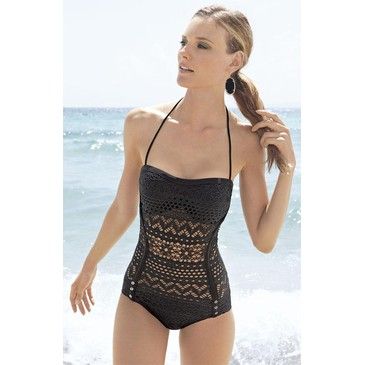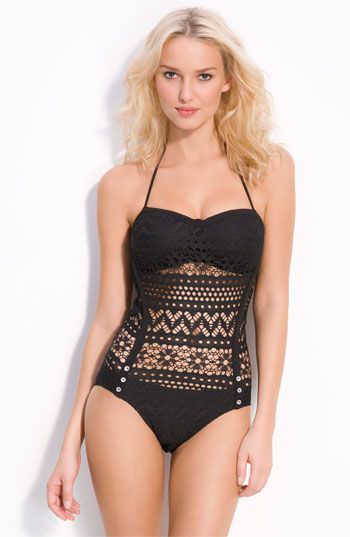 This is my take on that one piece swim suit. During our trip to Vegas for Krista's Bachelorette Bash, we will be hitting the pool. She needed an extra special swimsuit so I told her to get a cheap bikini and I would jazz it up for her.
She purchased this Classic Demi top and this Unforgetable Bikini bottom from Victoria's Secret's Forever Sexy line and sent it to me, along with measurements (1. length between sides & middle of chest to bottoms, 2. length between bottom of bra cups to bottom, and 3. width around torso).
I spread out the swimsuit and cut the lace accordingly, I did mess up though, I cut the width of the torso too short (I discovered this AFTER I finished sewing everything in to place). To sew the lace on seamlessly, I flipped the bikini inside out, pinned the lace to the bikini and sewed the lace in as close to the bikini edge as I could without hitting the under-wire.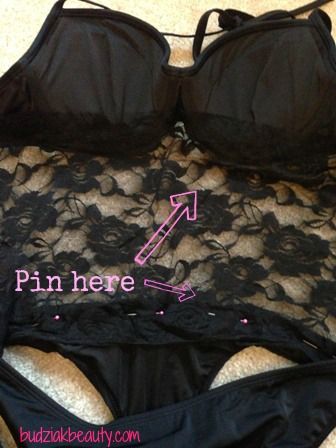 The mistake turned out to be a blessing because I put button holes in the lace (who knew you could do that?!) and made a corset back! Super sexy. I also embellished the top a bit with beautiful midnight navy iridescent beads with clear beads as spacers. I'm not a big one piece swimsuit fan but I love this swimsuit and frankly, I'm a bit jealous that I don't get to keep it and wear it for myself (not that it would fit because my boobs are pretty nonexistent) but she can go around bragging about her one of a kind swim suit now 🙂
Side note: there is so much you can do to jazz up a swimsuit: add ribbon, ruffles, fringe (big thing this year), glitter, crystals, beads, LACE, paint. And if you can't sew, craft stores sell glues that are waterproof! This is such an inexpensive way to make your suit one of a kind and bring out the creative traits in you 🙂
P.S. Check out my DIY crystal strassed flats or DIY makeup brush roll!