My best friend, Krista is getting married in August so I made the weekend trip back home for her bridal shower! About a week prior to the trip we were discussing bridal shower gifts as opposed to wedding gifts and while I gave her some input and resources, I knew I had to come up with something to physically show her. [Enter Pinterest!] I found the cutest pattern for a anthropology inspired DIY apron!
If you click the photo it takes you to the tutorial but here it is, in case the link doesn't work:
http://www.thedatingdivas.com/kristen/flirty-apron-tutorial/
I went to Walmart after researching a bit about sewing machines and picked up a cheap but quality Brother LX2500 for about $75. Years ago my mother had bought me a small sewing machine but it was very cutesy and I ended up not knowing what to do with it and broke it. Pretty sure that one was around the $25 range. Anyways, my current machine is a bit intimidating for a super beginner but after a quick run through of the machine through countless tutorials and the included manual and info DVD, I was up and running, practicing my stitches and foot pedal. Youtube was also wonderful for learning!
My sewing machine: Brother LX2500 – $75
http://www.walmart.com/ip/17039055?wmlspartner=wlpa&adid=22222222227000000000&wl0=&wl1=g&wl2=&wl3=21486607510&wl4=&wl5=pla&veh=sem
Back to the apron, I drove out to a farther Walmart that had a sewing section and picked up some essential tools along with fabric and obviously the machine. Krista's wedding colors are a mossy lime green and navy, at first she wanted a sky turquoise blue so I picked fabrics with those shades in mind. As I practiced sewing in a straight line, starting and ending by back stitching I ended up putting off the project until the night before the trip! So while Toby worked, I sewed and sewed and sewed. I finished it! The project took 7 whole hours but it got done and I'm excited to give it to her. Looking back, I really should have gotten a sewing machine months ago. I have really horrible hand stitching skills so I have a pile of clothes that need to be altered/tailored. I would not recommend making something as complicated as a flirty apron, especially on a time crunch. I think most people start with a basic tote, although if you're creative, somewhat logical/can follow instructions and like a challenge then by all means, go for the apron!
Also, during the sewing process my needle snapped in half! So along with learning to sew, I learned to change the needle and how to get the threads untangled. This process was explained to me in my machine manual. If anything else goes wrong, its easy to google it, find an easy solution on Youtube or even search it in the manual index – this sewing machine is very user friendly!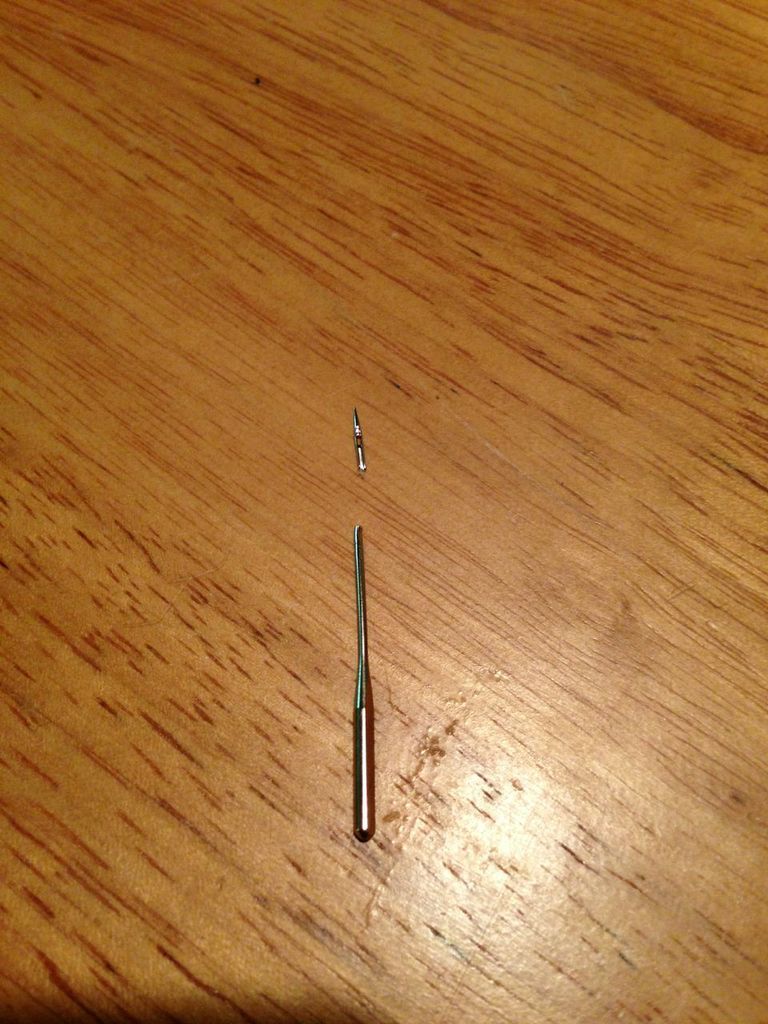 Behold my DIY Apron

This was definitely a learning experience but overall, I'm proud of my work and am satisfied she will love it. Eventually I want to make her matching oven mitts and potholders (wedding gift?!). Although the apron was super cute and I'm surprised it turned out so well, I thought all the cloth would get jammed in the machine and I'd arrive at the shower giftless or even miss my flight from being up all night. If I could redo it; I would make the following changes: longer peice of fabric for the pleats (it didn't go across the entire bottom part of the apron – just the front), less wrinkly/soft fabric for the pocket & straps (wrinkles made it look bubbly and not as stiff and professional, makes for a floppy waist bow instead of a sturdy neat one), waist ties are also a bit low (this makes the chest corners a bit floppy), the neck straps aren't proportionally sewn on the body of the apron (at this point, I just wanted to get it done, it was 1am and I had to get to bed before my 6am flight). Only a few changes but nothing that absolutely turns me off.
I did tweak the pattern a tiny bit; at first the apron seemed a bit short so I added a few inches to the body of it. The pattern I used features a medium sized front pocket (which I separated with a stitch in the middle to form two pockets), ruffles ( which are actually pleats and surprisingly easy to sew once you iron & pin it!), and a ribbon waist tie. I made the waist ties longer so it could wrap around and tie like this:
This cupcake apron can be purchased from Flirty Aprons at:
http://www.flirtyaprons.com/womens-aprons/show/frosted-cupcake/
P.S. You can follow my Pinterest sewing board here!
http://pinterest.com/budziak/sewing/
Let me know how your DIY Apron turned out!
Don't forget to check out more of my DIY Projects:
Project #2 – DIY Travel Pillow & Sleep Mask
Project #3 – DIY Burp Cloths
Project #4 – DIY Makeup Brush Roll