Greek Yogurt Chicken Salad recipe, right here! What's more comforting than a tangy chicken salad? Ok, don't answer that. I didn't grow up eating chicken salads. Come to think of it, I'm not sure I've ever had a chicken salad. But that didn't stop me from making one! I told a friend I would bring her lunch one day and started looking in to healthy salads to bring. I'm a huge lunchtime salad fiend, it's all I ever eat for lunch (mostly because it's the least messy item to eat – I'm weary of juicy, saucy, crumbly foods due to my clumsiness). I came up with a delicious healthy easy to eat chicken salad that is both a comforting classic and has an edge to it (thanks to the greek yogurt!)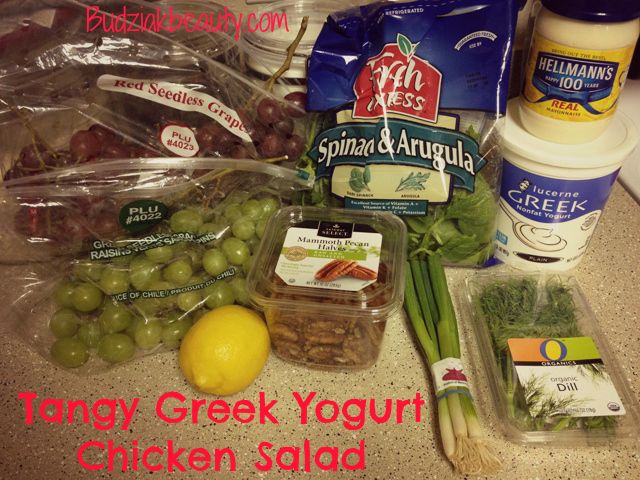 The basic premise of a chicken salad is: chicken, mayo & greens. At least, that's what I've been lead to believe after checking out recipe after recipe. I didn't quite follow any one recipe though, I just borrowed bits and pieces from each that I came across and made a creation of my own. It should also be noted that I tried to make this as healthy as I could, extra veggies, light on the fatty ingredients… You'll see!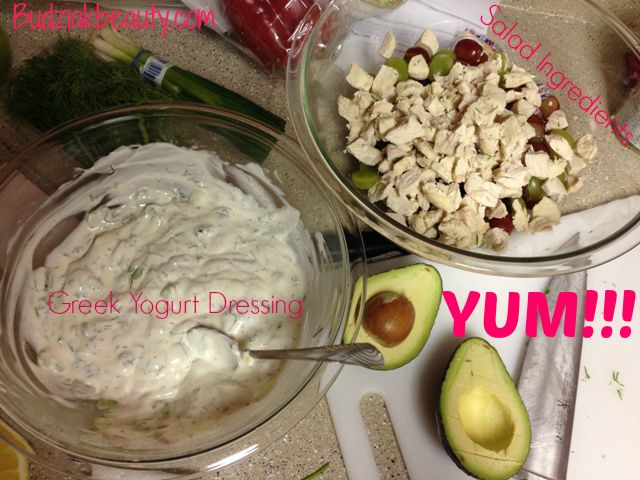 I started with my chicken, I cubed a chicken breast and boiled it until fully cooked.
For the dressing, I took 2 tablespoons of mayo + a generous quarter cup of greek yogurt, I mixed in a bit of salt, pepper, half a lemon & freshly chopped dill.
I combined the rest of my ingredients: spinach & argula, pecans, avocado, thinly sliced celery (I hate celery but thought I could mask the taste/texture), green onion, green & red grapes. I mixed in the chicken & dressing.
Super easy & super delicious!